LA TOMBE PRIMITIVE DE PAUL SPLINGAERD à CHALA (Beijing)
(before 1918)
The first tomb of Paul Splingaerd in Chala (Beijing)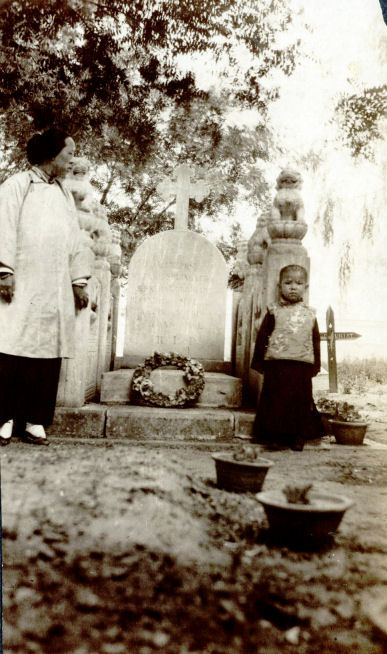 from Philomene Splingaerd-Cox's album
Cette photo date d'avant le décès de Catherine (1918), à l'époque où Paul Splingaerd était seul au cimetière chrétien de Chala. On y voit une dame qui doit être Anna Colette aux pieds bandés ainsi qu'un jeune enfant non identifié (soit Paul ou Philomene Splingaerd
Le texte est le même que celui que l'on peut lire sur la concession jumelle:

This photo dates from before the death of Catherine (1918), at the time when Paul Splingaerd was alone into the Christian cemetery of Chala. It shows a lady unknown with atrophied feet and a young child not identified.
The text is the same as we can read the license matches:
ICI REPOSE
Mr PAUL SPLINGAERD
GENERAL BRIGADE
DECEDE LE 26 SEPT. 1906
A SY AN FOU
68 ANS D'AGE
R.I.P.
L'inscription est donc en français et l'âge qui est donné au défunt est incorrect puisqu'il était âgé de seulement 64 ans
article associé: La tombe de Paul et de Catherine



Close this window to continue

Christian Goens - La Louvière - Belgium - october 2009 - modified november 2012 - tous droits réservés