Services for Joseph Splingaerd
(May 21, 1919 – April 21, 2011)
Date: Tuesday, May 3 rd

Time: 1 PM

Place: Holy Cross Cemetery

Mortuary Chapel

5835 West Slauson Avenue

Culver City, CA 90230
---
Published in the Los Angeles Times on May 1, 2011
Joseph Splingaerd
Splingaerd, Joseph
May 21, 1919 - April 21, 2011
Born in China, Joseph lived Hong, Kong, Japan, Mexico and Canada, before settling in Los Angeles in 1982.
A retired accountant (CPA at Peat Marwick, Mitchell, Japan, and VP/Treasurer at Encyclopedia Britannica, Mexico), Joseph is remembered best for his great tenor voice.
Joseph was preceded in death by his wife of 49 years, Mary Anderson. He is survived by his children, Peter ( Alice), and Anne (Michael) Megowan, grandchildren Andrew ( Alice) Megowan, Cynthia (Shawn) Olds, Christine Megowan, and Tara Splingaerd of Boston, and 2 great granddaughters.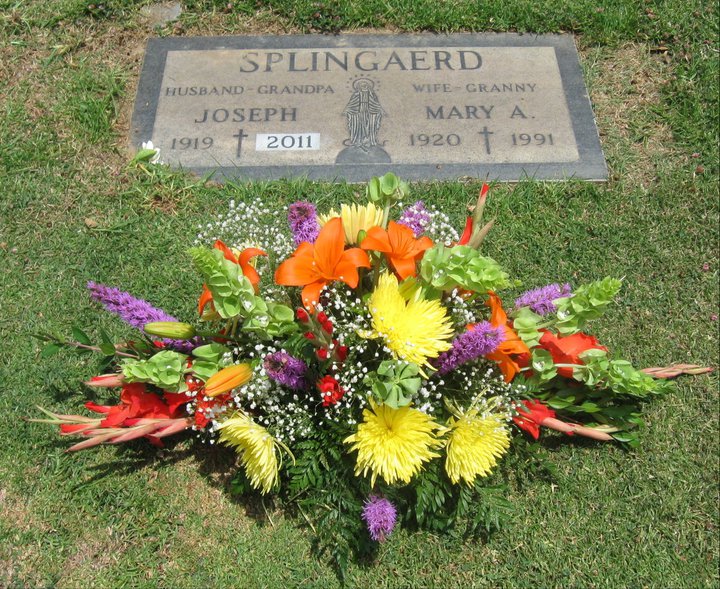 Close this window to continue

Christian Goens - La Louvière - Belgium - may 2011- tous droits réservés
Les textes recopiés et l'iconographie restent la propriété de leur auteur